Elder Mediation
Difficult Conversations Related to Aging and Death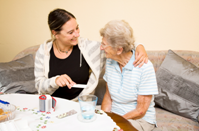 What Kinds of Issues Can Be Mediated?
Mediation is appropriate for discussing issues when there is an aging family member:
Parent/child relationships
Sibling relationships
Blended family relationships
Aging in place
Choice of residence
Long-term care decisions

Care-provider issues
Fiduciary roles and designations
Advanced medical directives
Distribution of assets
Concerns about competency
Absence of advanced medical directive or will
For information on how the mediation process works, please click here to read Your Family Matters: Communicate Before It's Too Late.
What Documents Do Mediators Prepare?
If requested by the parties, the Mediator will prepare a Memorandum of Understanding of Agreements reached during the mediation session.
If requested by the parties, the Mediator will draft a Memorandum of Progress to remind the participants of matters discussed during mediation session.
Presentation Available to Communities, Organizations and Groups:
Communicate Before It's Too Late:Your Family Matters!
This presentation addresses the challenges of family dynamics and how to communicate successfully by
presenting skills for communicating about important decisions such as medical treatment, health and safety issues, finances, and distribution of property while preserving family relationships


demonstrating through role play the mediation process to understand when having a third party mediator can be helpful.
Call (303) 415-2042 for a free initial consultation.
Contact the Colorado Mediation Center by clicking here.
Copyright 2000-2011 Colorado Mediation Center, LLC, and PMO Communications, LLC